Maintenance of the production environment
In your production environment people and machines must be able to interact in as effective a manner as possible. You expect as high a level of productivity as possible and a minimum of costs.
Good maintenance limits the amount of dust, grease and dirt and, of course, must not hinder the operation of the machines or the production. Therefore, we aim for maintenance with a minimum loss of efficiency and waste of energy.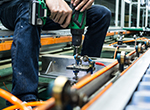 De advantages
To see all your maintenance problems being dealt with aggressively.
Quality and reliability.
Effective organization.
Adequately trained staff.
Execution of the works at a budget clearly set in advance.
Reporting after execution of the works.
A clear contract without any fine print.
A few examples
Trusses, pipes, cable ducts and lamps
Ceilings, walls, floors, doors and sectional garage doors
Platforms, lifts, stairs and railings
Workshops, laboratories, warehouses and loading quays
Sewers and car park
Fuse boxes and control boxes