Facility services
Filter management
Guaranteed proper functioning of the filter system.
Use of the proper filters at the best price.
Be able to measure the saturation of the filters.
Proper processing of the waste product.
Guaranteed adequate air control.
Reducing the dirt in the systems.
A few examples
maintenance of supply filters, paint stop filters, liquid filters
delivery of filters
pressure difference meters
stock management
complete management of all the filter stations


---
Maintenance of technical facilities
Your technical facilities support the production process of your company. You expect maximum reliability in a safe environment. Dust accumulating in fuse boxes can cause short-circuits. Air exhaust ducts and filters must be free of inflammable deposit. Water-cooling systems must be able to guarantee your production in the summer as well. Good maintenance must not be at the expense of the required production time. Regular maintenance of heat exchangers, cooling towers, steam boilers and ventilation sets will prevent waste of energy and loss of efficiency.
A few examples:
Air ducts, supply and exhaust systems
Ventilation sets, filtering and air conditioning systems
Distribution boxes, HV and LV control and switch boxes
Transformers, electric engines, electro filters
Steam boilers, fire tubes
Water-cooling systems and water-purification plants
---
Logistical support
All sorts of peripheral activities support your production process. You expect these activities, such as your internal logistics and waste management, to be carried out in a reliable and flexible manner with a minimum of costs. The irregular supply of goods or the periodic need for waste sorting must not hinder your production process. In short, an adequate and cost-effective support of your internal logistics and of your internal waste management will lead to your production process running even more smoothly.


A few axamples
Loading and unloading of trucks
Fork truck drivers
Stock and warehouse management
Supplying the product lines
Waste pickup and sorting
Coordination with the external waste disposal company
Maintenance, clearing and cleaning of waste containers and container park
---
Chemical cleaning
To have your production process run optimally in a safe environment and with minimal harm to the environment. However, not all contamination or corrosion is visible. Pipes can become silted up; soot deposit constitutes a fire hazard. Calcium deposit reduces the heat exchange, or pipes are contaminated by production residue. Fire tube boilers or heat exchangers must be cleaned regularly so as to limit the waste of energy, contamination or loss of efficiency. When a new system is put into operation, it must also be treated on the inside to prevent contamination of the finished product.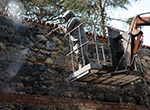 A few axamples
A newly-built system
Plates of heat exchanger
Tubes of heat exchange
Steam boiler, fire tubes
Water-purification plants
Pipes, fluid tanks

---
Garden - Paving work
To have all your wishes regarding the design & construction of your garden, driveway, fences, hardening work and paving work executed in an expert manner. Design in association with landscape architects and engineering firms. Top quality and top-notch service. 
Impeccable execution of any project. Execution of works perfectly tailored to your budget.
A few examples
Design of private gardens
Maintenance of gardens, trimming & pruning etc ...
Planting of shrubs, trees, lawns and flowerbeds
Ponds
Pergolas, carports and garden sheds
Fences, gates and garage doors
Public and private hardening work
All paving work in concrete, concrete paving blocks or asphalt
Request an
analysis & quotation
for customized industrial maintenance without obligation.
Or
contact us
for more information!