Filter management custom-made for your business
Mac Industrial will gladly maintain your filters for you. Our experienced workers will maintain your filter installations at agreed times. We measure the saturation of the filters and replace them if necessary. Our workers select the right filters based on your filter installation.
Advantages of good filter management
Guarantee for an efficient operation of the filter installation
Use of the best filters at the right price
Measurement of the saturation of the filters
Correct processing of the waste product
Reduction of waste in the installation
Proper air control ensured


Velum system, a milestone in the protection of your technical facilities and electrical cabinets
Mac Industrial is proud to be the main distributor of the Velum system in Belgium. This simple, efficient system ensures that everyone in your company is able to contribute to an excellent protection of your technical facilities against internal dust and dirt. Weekly internal checks keep your technical facilities and electrical cabinets looking like new.
Advantages of the Velum system
External protection against dust and dirt infiltration of technical facilities, electrical cabinets and engines
Easy to use
Etc.
Filter management
Some companies use so many filters it's impossible to know what's what. Which filter is needed for which installation? When do you need to replace them? Where can you get them? Usually, these filters are also offered in a package, which means you're stuck with a stock of different filters that you can also use for other things. This stock takes up a lot of storage space. Mac Industrial takes over the filter management in your company and ensures that your filters are always replaced or cleaned at the right time.

A clear plan tells you which filters in your company need to be replaced. After every Mac Industrial intervention, you receive a clear report of what was done, allowing you to follow up the works.

Good filter management is essential for your company's production. Saturated filters create extra work, are inconvenient and often result in rejected products.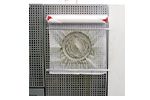 Need filter management for your company?
Request a custom-made quote by filling in our quote form or contact us for more information!
Request an
analysis & quotation
for customized industrial maintenance without obligation.
Or
contact us
for more information!