Dry ice cleaning or CO2 cleaning: piece of cake!
The dry ice or CO2 cleaning technique was already introduced in 1987 as a revolutionary cleaning technique.
Despite a flourishing start in the Netherlands and France, the Belgian market wasn't ready yet for this cleaning technique. However, as more companies have shown an interest in the use of CO2 these last years, Mac Industrial now also provides this service.
What is dry ice cleaning?
The CO2 cleaning or dry ice cleaning technique projects dry ice at high speed onto the surface to be cleaned, which disappears on impact with the surface. This technique leaves no other waste. It is an efficient alternative to protect the environment and to reduce the use of detergents and chemicals.
Advantages of CO2 cleaning
Increases production time by permitting on site cleaning
Cleans without damaging the surface to be treated
Reduces and eliminates the use of dangerous solvents and chemicals
Quicker and more efficient than manual cleaning
No danger for nearby electric appliances
Very efficient in certain sectors of the food industry where the use of water is to be avoided.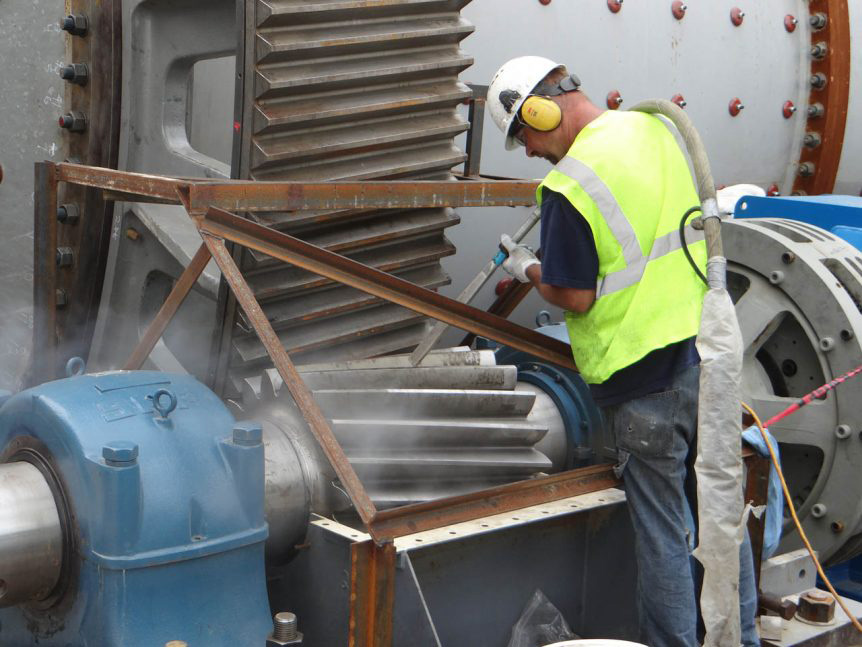 Where can dry ice or CO2 cleaning be used?
Conveyor chains and systems
Disinfecting
Machines and machine components
Car industry
Spray booths, drying facilities and wash tunnels
Plastics industry
Removal of graffiti
Food production and derivatives
Chewing gum removal
General maintenance
Electrical facilities
Foundries
Partitions and walls
Renovation of equipment
Rust removal
…….
Need dry ice maintenance?
Request a custom-made quote by filling in
our quote form
or
contact us
for more information!
Request a custom-made industrial cleaning
analysis & quote
.
Or
contact us
for more information!